Have you ever found something really old and fascinating, and wondered what its story was? Wished your family heirlooms came with a set of their own history notes? What if you bought a house, and discovered a whole load of money Under the Lino? What would you do? Where would you start?
When Eleanor Webster decided to hide her family's passbooks and cash totalling over £2000 under the linoleum flooring of her 1912 Queenslander during the second World War, little did she know that 75 years later, over a thousand people in the new digital age would start an incredible historical hunt to find the heirs of her legacy…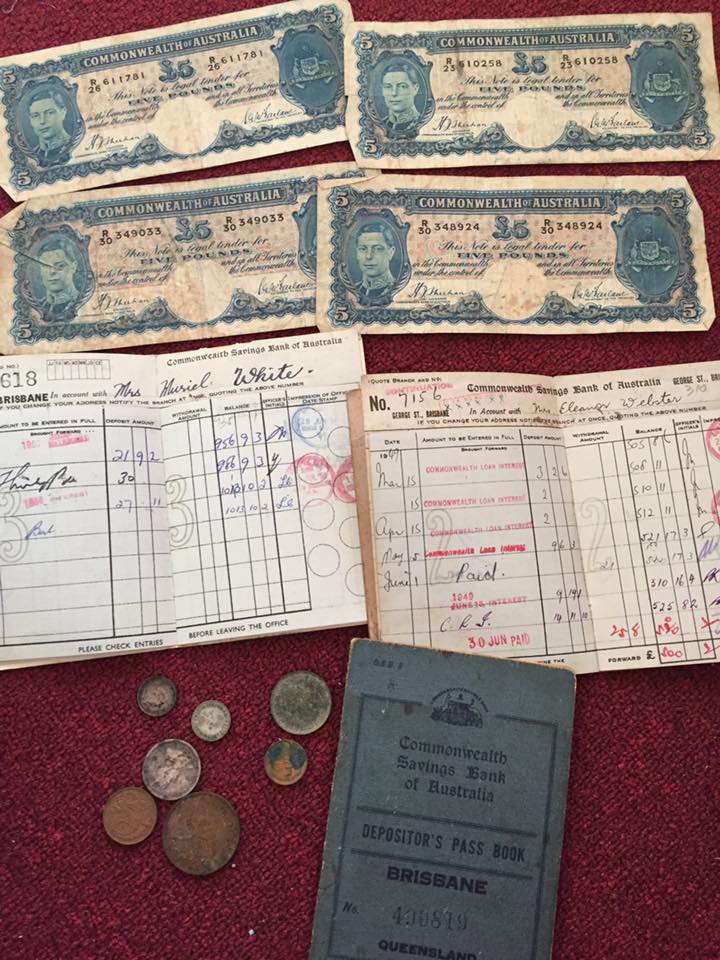 As you know, I am a Brisbane writer, but I also happen to be the one who found Eleanor's stash! If a story was ever meant to be written, it's this one, and I have been gifted with the honour of writing a collaborative, creative, non-fiction account of what I really discovered under the lino… so much more than the photograph depicts.
On August 20th, 2017, I posted the above photograph on a Facebook page called Old Brisbane Album, where people interested in Brisbane's history enjoy seeing pictures and hearing stories of our great city's past.
I had planned to frame my discovery, but instead, I thought I'd ask the group what to do with it all. I could never have predicted what was about to happen because of that innocent post. The community agreed that the only thing to do was to search for the rightful owners of the money (living heirs), and I agreed, somewhat humbled and daunted by the prospect. I needn't have worried though.
A huge group of passionate and curious people began the hunt with me. Day and night for weeks on end, people I'd never met started to ask and answer the questions…
Who were the original owners of the passbooks?
Did they have any children? What happened to them? Can we contact any of the extended family?
Is the money available through the government or the Commonwealth Bank for anyone we do find?
How much was the money worth back then? What could be purchased with that amount? What would it be worth now?
What did they did they do for a living to earn that sort of income?
And you can not imagine for a moment what we discovered in the hundreds of photographs, newspaper articles, wills, death notices, marriage records and personal encounters…
It's now my personal honour and civic duty to make a record of what we discovered in an historical narrative book called Under the Lino.
The Mystery. The History. The Community.
I will show you how we solved so many mysteries, thereby giving you the keys to discovering historical answers to your own family questions.
I will give you real tales of passion and impotence, intrigue and murder, brothels and fraud, gravestone theft and fascinating facts about our city dating back to the early 1800s that will rock the very foundations you walk upon.
And more than anything else, I will show you the value of this incredible community of Brisbane. Yes, you're probably one of them, or about to be one of them! They're the people who still make chicken soup for sick neighbours, who take care of ailing relatives without complaint, who walk across our bridges to raise money for important causes and who don their gumboots to help out after a flood, even if they've lost everything themselves.
These same people have visited cemeteries, taken photographs, met with local historians, visited banks, paid for historical records out of their own pockets and interviewed people of interest, all of whom have helped in the search for answers.
These are my people, our people. The people of Brisbane.
Just by being on this page, you have joined this community. Welcome to Brisbane's Under the Lino team!
We really need your help to make this story fly. By pre-ordering books, or making a donation, you become part of the story, so strap yourself in for the ride of your life! Your history just got interesting…
Yours in research and storytelling,
Caylie Jeffery
Pre-order your copy here: Under the Lino The Book!
A few comments from the group…
"How amazing is this adventure, virtual for most of us but I can feel the 'humanness' of the connections. Thank you Caylie for inviting us on this journey and thanks to all the detectives. It's just such a positive group!" Lou R
"I will definitely be involved in supporting the crowdfunding of this fantastic amazing project. I will be wanting at least one book if not more. Crowdfunding is a fantastic way to support local creative people and our pursuits so that we can tell our stories, share our music, join together as a community – it is the way to keep story circles alive in this era x Thanks Caylieand the entire team for bringing these stories alive." Cherri R
"I'd certainly back this venture. If this story didn't reveal itself to someone who happens to be an author it would likely remain untold. Without your skill and enthusiasm this story would have lost momentum and died." Sharon M
"The twists and turns and unexpected surprises make this whole adventure fascinating and now a little more personal for you. These people have become our people!" Shar A
"I'm loving this journey – it gets more intriguing as it goes along." Judith H
"Wow Caylie, that's like one of those 6 degrees things! What an amazing discovery and isn't it the coolest feeling when you start getting enough information to start piecing together a picture in your mind of what their life was like and what they were like at that time in their lives… like walking through a doorway into the past. I even think we're all getting to know these people and maybe have a little affection for them 😁 I LOVE this!" Robyn W
"You've got me hooked. Having been brought up in this area I find it so interesting. Love your work. Hope it hasn't slowed your renos." Leanne G
"You are a legend. Netflix, Foxtel, Unsolved mysteries. You had me @ Lino!" Leanne C
"Gosh this is awesome.💕" Donna B
"What a fascinating history we are chasing." Lyn C
"Loving this mystery… It's becoming a wonderful diversion for me. Can't wait for the next revelation :)" Ann B
"Fantastic Caylie !! I'm so fascinated by this entire story! Well done to everyone 😁" Christine M
"This story has fascinated me since you first posted it way back before the Lino had its own page! I love stories of old Brisbane and this one is a really mystery and so close to where I grew up. You are doing an amazing job!" Jane K